Some of Welland Optimist Events
2018 - 2019 marks the 100th Anniversary of Optimist International
May - Optimist Respect for Law Awards honouring those who protect our citizens.
June 24, 2019 - Optimist Golf Tournament at Wiskey Run
On April 6th the Welland Optimist Club held our most sucessful auction to date.
We would like to thank all of the local business' for donating the wonderful products
and services. Thank you also to our guests for their generous bids.
And last but not least to all of our members and friends that give of their time to put on the auction.
Thanks to all of a donors:
A-1 Flooring & Wall Coverings, A Little R & R Vacation, A. P. Brown Jewellers LTD.,
Active Green & Ross, Antipastos di Roma, Aqua-Blue (Niagara) LTD.,
Avenue Locksmith & Sharpening, Aviva Insurance Co., Beamsville Fish & Chips,
Best Western Plus, Bill Bolton Painting, Blakes Mens Wear, Boston Pizza,
Briggsy's Sportswear & Promotions, Broadway Custom Upholstery & Drapery,
Buckner's Sports Centre, CC's Dugout, CRS Specialties LTD.,
Canine Massage Therapy, Cardinal Lakes Golf Club, Car Star Welland,
Century 21 Today Realty LTD., Cheers Retaurant,
Clarke Ventresca Foot & Orthotic Centre, Cool Brewery,
Country Basket Garden Centre, Country Corner Market,
Coldwell Banker Advantage Real Estate, Cracker Jack Stadium,
D'Angelo Printing Company LTD., Damude Office Pro,
David Chevrolet Corvette Buick GMC Ltd., Dulux Paints,
Dun Rite Aluminum & Vinyl LTD., Ensign Electronic Alarm Systems,
F.E.Coyne Insurance Brokers Limited, Fabricland Distributors, First Ontario Credit Union,
Fonthill Chiropractic Clinic, Function Health, Gary Bovine Chiroactic Office, Giant Tiger,
Goods Sports Excellence, Hall Of Frame, Hair Hunters Salon & Spa,
Harpwood's Trophy & Gift Shop, Hill Side Lanes, Hooters, Intact Insurance Company,
I G Wealth Management, Jeff's Bowlorama, Jiffy Lube, Julie's Tire & Auto,
Ken Nash Paint & Wallpaper Ltd., Kingsway Bowling Centre,
L.J.Walters Insurance Brokers LTD., Lynn's Pet Grooming & Supply Centre,
M.T.Bellies Tap & Grillhouse, Mack's Automotive Inc,
MacLeod Automotive & Northend Mobility, McDonalds Restaurant,
Midas Muffler & Brakes, Mori Gardens, Mr Mikes Steakhouse Casual,
Myles Calvert Contracting, Niagara Airbus Inc., Niagara Soft Cloth Car Wash,
Niagara Street Pharmacy, Niagara Symphony Orchestra, Nick's Cleaners & Taylors,
Paul's Garden Centre, Pet Value, Port Colborne Golf & Country Club, RSA Insurance Co.,
Re/Max Garden City Realty Inc., Re-Max Welland Realty LTD., Robert Nori,
Rose City Chrysler Ltd., Shopper's Drug Mart (Welland), Shopper's Drug Mart (Fonthill),
Sobey's, Sue's Seafood, Suntastic Tanning Inc., Sweet Thoughts,
Taylor Wellness & Chiropractic Offices, The Hairport, The Keg Steakhouse,
The Wine & Beer Company, Thomas Electronics, Tim Hortons, Travel Escapes Ltd.,
Urban Steakhouse & Lounge, Vincent's Red Hot Pizza, Wawanesa Insurance Co.,
Welbridge Engineering Co. Ltd., Welland Equipment Rentals, Welland Toyota,
Whisky Run Golf Course, Zenkai Massage Therapy Clinic.
Please join us at the Main Street Gaming Centre every second Thursday
to support the Welland Optimist Club's fundraising efforts.
*** *** *** *** *** *** *** *** *** *** ***
The funds raised by Optimists go to help support:
- Rose City Kids - too purchase new sports equipment.
- 2018 Youth Appreciation Award Education Bursary winner - Jade Bergeron-Latham
- 2018 Youth Appreciation Award Education Bursary winner - Ian Hetherington
- Community Christmas Toys.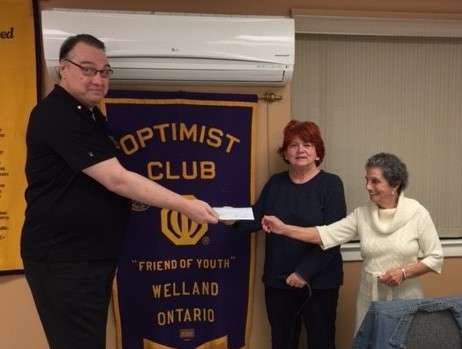 - Niagara Sexual Assault Center - to help fund secondary school sexual assault awareness classes.
- Wellspring Niagara - for youth cancer patient support services.
The Welland Optimists continue to support:
- Welland Minor Hockey.
- Welland Aquatics and Summer Camp.
- the 20th Welland Scouting Group.
- and many other youth activites and support organizations.
---